Remembering Richard Whittington and James Herbert

President Gerald Spence, October 21

It's hard to believe that it's been fifty years. Even harder to forget what a tragic event had taken place.

I remember what I was doing that day; helping one of my friends and his wife move. The weather was overcast, dreary, with a light misty rain during the morning hours. More like a typical early fall type day.

We had just left the Marlow Heights apartment location and I turned on my vhf receiver ... (Full Story & Photos)

Hands Only CPR - It Works!

CVFD, June 01

Be the Difference for Someone You Love
If you are called on to give CPR in an emergency, you will most likely be trying to save the life of someone you love: a child, a spouse, a parent or a friend. 70 percent of out-of-hospital cardiac arrests happen in homes and residential settings. Unfortunately, only about 39% of people who experience an out-of-hospital cardiac arrest get the immediate help that ... (Full Story & Photos)

1976 Kenworth Open Cab Water Supply
Collectible Diecast Model, 1/34 scale

Now only $45.00
plus $13.35 shipping and tax.
Based on Our original Kenworth Blueprints.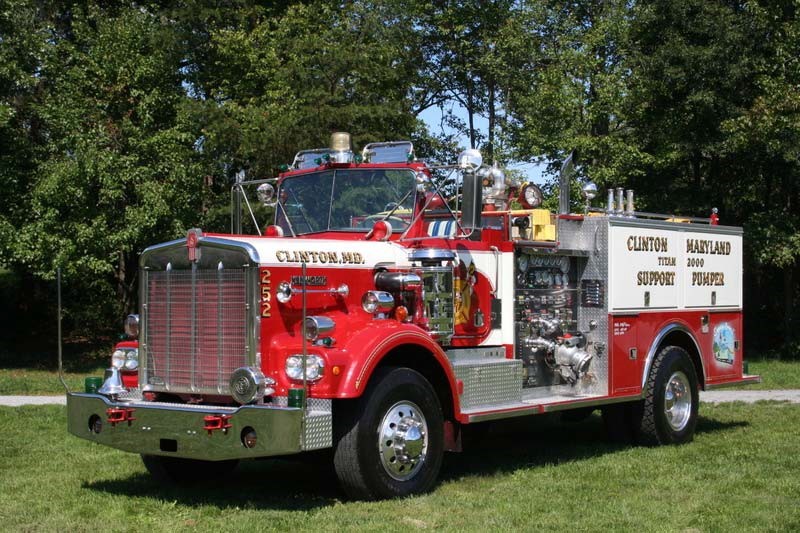 We are pleased to announce a special fundraiser to help pay for Clinton's new Engine 253. After months of detailed work with the die cast collectible manufacturer, First Gear Inc, we have produced a replica of our 1976 Kenworth Pierce Open Cab Fire Engine. Only 2500 units were produced. Join us in supporting the fire service by ordering your Authentic 1976 Kenworth Pierce today.
Each is serial numbered
Has a letter of authenticity
Comes in a custom designed box
For an impartial opinion, with more photos, check out the Fireengines.net review of the Kenworth. (PDF of article)
This collectible fire engine was designed by the fire fighters who work with this Kenworth Pierce and who are avid fire engine model collectors.
Collectors know that only $45.00 is a great price for the most detailed and The Only Authentic 1976 Kenworth Pierce produced by First Gear for 2007. This is a model of our highly acclaimed Water Supply 25, which has been an active part of the Fire Service for over 30 years.
Ordering Information
PayPal: Click on the PayPal Button to go to the Secure PayPal Site.
Credit Card: For credit card payments, click on the PayPal Button to go to the Secure PayPal Site. You do not have to have a PayPal Account when you pay with your credit card.
International Orders If you reside outside the United States, please contact us at to make arrangements for purchase and delivery. Email info@clintonvfd.org
Questions? Contact info@clintonvfd.org
Welcome to the Official Website for the Clinton Volunteer Fire Department
The Clinton Volunteer Fire Department is a local Community organization dedicated to providing quality Fire Suppression and Emergency Medical Care. Our staff is comprised of approximately 40 Active Volunteer Firefighter/EMT's who are trained to meet the same standards and competencies as the Career Firefighters who supplement our staffing. In addition to responding to your emergency services requirements in the greater Clinton area, we also provide mutual aid to the surrounding communities of Camp Springs, Morningside, Silesia, Friendly, Allentown, Oxon Hill, Forestville, Brandywine, Baden, Waldorf and Silver Hill. We are primarily a publicly funded non profit Corporation, dependent on your financial support. At the present time we operate an Engine Company, Truck Company and Water Supply Special Unit, as well as an Emergency Medical Services staff. Please continue your tour of our web page, see how we work, respond and train.
Your feedback is important to us! Feel free to sign the guestbook.