Now only $45.00
plus $13.35 shipping and any applicable taxes.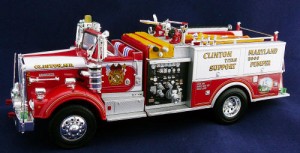 The One and Only 1976 Kenworth
Open Cab Diecast Collectible Fire Engine
First Gear's Most Detailed Model Ever!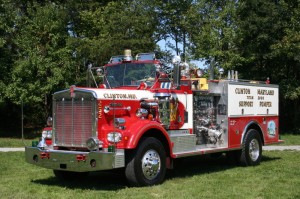 Based on Our original Kenworth Blueprints.
We are pleased to announce a special fundraiser to help pay for Clinton's new Engine 253. After months of detailed work with the die cast collectible manufacturer, First Gear Inc, we have produced a replica of our 1976 Kenworth Pierce Open Cab Fire Engine. Only 2500 units were produced. Join us in supporting the fire service by ordering your Authentic 1976 Kenworth Pierce today.
Each is serial numbered
Has a letter of authenticity
Comes in a custom designed box
For an impartial opinion, with more photos, check out the Fireengines.net review of the Kenworth. (PDF of article)
This collectible fire engine was designed by the fire fighters who work with this Kenworth Pierce and who are avid fire engine model collectors.
Collectors know that only $45.00 is a great price for the most detailed and The Only Authentic 1976 Kenworth Pierce produced by First Gear for 2007. This is a model of our highly acclaimed Water Supply 25, which has been an active part of the Fire Service for over 30 years.
Ordering Information
PayPal: Visit our Pay Pal Order Page by clicking on the Pay Pal button above. Click on the PayPal Button to go to the Secure PayPal Site.
Credit Card: For credit card payments, click on the PayPal Button to go to the Secure PayPal Site. You do not have to have a PayPal Account when you pay with your credit card.
International Orders If you reside outside the United States, please contact us at to make arrangements for purchase and delivery. Email info@clintonvfd.org
Questions? Contact info@clintonvfd.org